Main Purposes
Cookies are used for several reasons and are also responsible for many convenient features. Cookies are used for automatic fulfilment of user details and any other frequently used data from previous forms and comments. Moreover, cookies allow our Website to store your preferences to provide a more personalised experience every time you come back.
Cookies also help us organise our newsletter services, storing those users who have already signed up to our system and dividing them into categories. So, we can better plan our email and newsletter subscription services, targeting our content to more specific audiences. They also help us to differentiate subscribed users from unsubscribed ones.
We run regular questionnaires and user surveys which guide our strategy for providing you with the best informational tools. Here, cookies help us keep track of which users have already taken part in them, and process the results of these questionnaires, once they have been completed.
Our cookies are directed at four primary goals. Read the below.
Essential Cookies
Without a bare minimum of cookies, this Website can malfunction. There would be problems with changing between pages and bugs.
Performance-Related Cookies
This Website collects data related to your habits while navigating here. They allow us to improve our menus and overall usability.
Improve Functionality
These cookies store your preferences, such as most used language, login details, search history, and more. They allow you to access your account more quickly and remember all your settings.
Advertisement Cookies
As the name suggests, this kind of cookie helps us optimise our advertisements. They allow us to select those advertisements you are more likely to consider relevant.
Third-Party Cookies
We also work with cookies sourced by third-party providers that meet our business standards. Google Analytics and YouTube are among the most common third-party cookies this website uses. Google Analytics is a worldwide market leader in analytic solutions. This tool gives us a better comprehension of how you use this Website. It uses cookies for tracking the pages you visit the most and how long you stay there.
There are also third-party cookies for tracking your social media accounts. In this case, cookies help to understand your preferences and help us elaborate on content that will meet your demands and interests.
What We Do With Your Data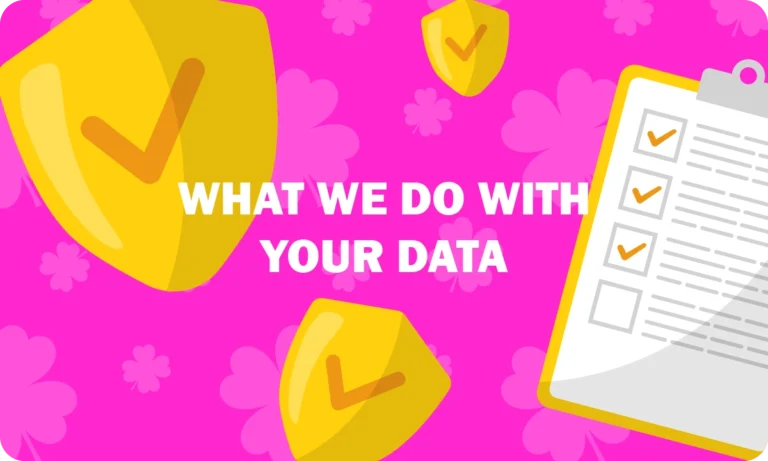 >
Your data is only used within the legal frame established by the European Union. Here are two circumstances when your data may be used. Our use of any personal information is described in the Players Rights section.
When we consider it necessary to our business or our partners, provided that such use never overrides any of your rights and interests;
Upon your explicit consent, we can process your data under current laws. We will request your consent before communications and direct marketing from any third party. You can refuse to give or withdraw your consent at any moment.

To allow you to interact, post, and share user content, provided it does not override other users' consent.

To troubleshoot and support our services.

To elaborate and apply our business strategy.

To feed you relevant information according to your membership status or membership area.

For anonymous analytic research, to help us identify areas that need improvement or further customisation of our services.

To try and improve our Website's functionality.

The Kind Of Personal Data We Store
We mainly focus on six kinds of personal data, as you can read below.
| Type of Data | Examples |
| --- | --- |
| Identity | Username, first name, last name, maiden name, date of birth, marital status, gender, title, occupation, and employment status |
| Contact details | Addresses, emails, mobile numbers and landlines |
| Technical data | Your login details, internet protocol (IP) address, time zone location and setting, browser plug-ins and operating system |
| Profile information | Username, encrypted password, log in and logout details |
| Usage data | Your browsing habits on our Website |
| Communications and marketing-related data | Your settings regarding marketing (third-party or otherwise) and communication preferences |
Storage Duration
We store your data indefinitely unless we are requested to do otherwise. We periodically reevaluate the data we retain, keeping or discarding them according to their relevance to our business. You are encouraged to update your personal information regularly. Additionally, you can request at any moment to access, correct, transfer, restrict, withdraw consent, request erasure, and enquire how we are processing your data.
When We Sharing Personal Information
Your personal information will never be sold or traded in any way, as explained in the Player Rights section.
We may disclose or transfer your personal information under the following circumstances:
Other companies within our group
To third parties for analytics purposes to improve navigability and overall performance. In this case, your data cannot be traced back to you, as the information will be anonymous

In the occasion of merger, acquisition, or sale of the company or any of its assets, or business re-organisations

To third parties that provide marketing services that support our Website

The third parties with which we deal also follow strict guidelines, and security protocols, regarding any personal information transmitted to them under the terms of the law. No third party has our authorisation for using your personal information for business purposes. Readers can rest assured that we only deal with third parties that follow the best business practices.
Additionally, we can disclose any personal information submitted to our Website in the following situations: (i) to prevent illegal activities or to take action against any such activity; (ii) to follow local laws, and to comply with governmental regulations regarding fraud prevention or any other wrongdoing; (iii); to collaborate with law enforcement; (iv) to protect our business and our users against any suspected harm to safety or property; (v) to defend our business against any legal claim.
How We Protect Your Personal Information
This Website follows the most strict industry standards and security protocols when dealing with your data. The whole Website is protected by SSL (Security Socket Layer) technology, the golden standard in this business. Moreover, we ensure that no unauthorised party will ever have access to such information or have the chance to alter it.
When sharing or transmitting your personal information to any third party, we observe the following rules:
The third party must comply with the European Commission regulations and provide the same protection users have in Europe.
According to personal data protection regulations imposed by the European Commission, your personal information will only be sent to countries that are considered safe.

In the case of a third party located in the United States, we observe the Privacy Shield policies, which equate to the personal protection offered by European and American regulators.

Final Considerations
If you still have any questions regarding our cookies and privacy policies, please contact us through our Website. Any provisions about such policies not mentioned in this document will be dealt with individually.
Was this page helpful?
This page hasnt been rated yet - help others by sharing your opinion